Who is online?
In total there are 2 users online :: 0 Registered, 0 Hidden and 2 Guests :: 1 Bot

None

Most users ever online was 46 on Sat Oct 13, 2012 11:41 pm

[RainOfLights] Ichigo's agony

Fri Feb 28, 2014 3:14 am by RainOfLights

Editor: RainOfLights
Anime: Bleach
Artist: One ok rock
Song:No scared
Contest: Mungentourney
Description:My entry for the first round of the Mugentourney
Got little bored at the end.
Other Credits: boobies
Disclaimer:'Copyright Disclaimer Under Section 107 of the Copyright Act 1976, allowance is made for 'fair use' for purposes such as criticism, comment, …

[ Full reading ]
Comments: 3
[Iconic Divide] Best Day of my Life MEP (8/3/2014)

Sat Mar 08, 2014 8:03 pm by 995Gabber


The 1 MEP I don't join turns out to be the one I love the most. Pff...

Authors:
1) PirateNinjaKitteh
2) VigorAMVs
3) IxHeartxAnime13
4) AnimeChick371
5) spaintakula
6) shmollz2721
7) camichan19

Iconic Divide is a learning MEP group. Consisting of new editors and the teachers (founders), and we do different styles every time.

Anime source(s): Ehh... I'm …[/flash(425,350)]



[ Full reading ]
Comments: 0
TritioAFB - Going Down

Fri Mar 07, 2014 6:20 am by TritioAFB
Anime Used: Wanna be the strongest in the world
Song/Artist: Going Down - Sick Puppies
Contest Participating/ed: Otaku Nation
Lenght: 2:31
Software: Sony Vegas Pro 10, After Effects Cs4

Link:



Just passing to post this little video, I guess PBE is also here so you can ask him why I was finally decided to use this kind of source. He likes the plot of anime …

[ Full reading ]
Comments: 9
[Diegao94] Downfall: Absolution (13/12/2013)

Wed Mar 05, 2014 1:58 pm by diegao94
Editor:
diegao94 (Rising Production)
Anime:
Fate/Zero
Song:
Glass House - Red
Contests:
Akross Contest 2013, Texas Furry Fiesta AMV Contest 2014
Awards:
Best Action at "Texas Furry Fiesta AMV Contest 2014"
Description:
So this was my Akross entry. I like making action videos
…[/flash(425,350)]



[ Full reading ]
Comments: 6
[IC ST 10] Horadrim

Tue Mar 04, 2014 4:34 am by ProjectBarcodeError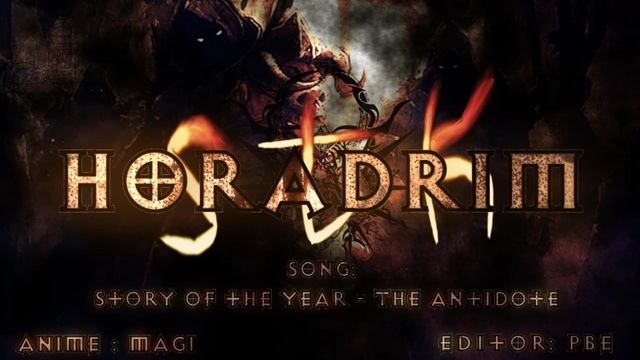 Bann made by me in "save image".
Spoiler:
Anime: Magi: Labyrinth of Magic, Magi : Kingdom of Magic

Song: Story of the year - The antidote

Does not contain Diablo, but sure contains SPOILERS, especially of Season 1.

Stream:

[flash(425,350)]…[/flash(425,350)]



[ Full reading ]
Comments: 4
[xUltraVortex] Take me high (18-02-2014)

Fri Feb 28, 2014 12:50 am by xUltraVortex
Video:

Production:xNewWorldStudio
Editor/s :xUltraVortex
*Anime Used: Sword Art Online
*Song/Artist: Starset - My Demons
Contest Participating/ed:Comicdom AMV Contest
Description:So this is my entry for Comicdom AMV Contest of Greece...I made it in 3 days so it has some mistakes xD
Other Credits:
Disclaimer:'Copyright Disclaimer Under Section 107 of the …

[ Full reading ]
Comments: 3
[xAkinaNozomi] Black & White (26/02/2014)

Wed Feb 26, 2014 6:00 pm by xAkinaNozomi
Video: Black & White
Editor: xAkinaNozomi
Anime Used: Sword Art Online
Song/Artist: Nico Grund - Black & White
Contest Participating: Second Audition Video for AerisStudio



Description:
Hey minna :),
this AMV is my second Audition video for Aeris Studio^^. This one was not as difficult as my first one but still a little challenge...so I hope you like …

[ Full reading ]
Comments: 3
[xAkinaNozomi] Used to Be (13/02/2014)

Thu Feb 13, 2014 8:20 pm by xAkinaNozomi
Video: Used to Be
Editor: xAkinaNozomi
Anime Used: Nagi no Asukara
Song/Artist: Arrows to Athens - Used to Be
Contest Participating: Audition of AerisStudio



Description:
Hey hey^^,
Firstly I have to say that this AMV is an Audition video for AerisStudio^^. That's also the reason why it's a little bit different as the AMVs I usually do. It was fun to make …

[ Full reading ]
Comments: 11
March 2014
Mon
Tue
Wed
Thu
Fri
Sat
Sun

1

2

3

4

5

6

7

8

9

10

11

12

13

14

15

16

17

18

19

20

21

22

23

24

25

26

27

28

29

30

Calendar
Statistics
We have 450 registered users
The newest registered user is mynameis

Our users have posted a total of 18803 messages in 1743 subjects